MBT's transformer manufacturing process
MBT has invested in modern transformer manufacturing technology, most production machinery and testing equipment as well as important input materials are imported from G7 developed countries. This article will show you the transformer process to help you understand how we can produce a high-quality transformer.
I. Applicable standards
MBT transformers are designed, manufactured and tested according to quality standards ISO 9001 - 2015, ISO 14001, TCVN 6306, ANSI,...
II. Transformer materials
MBT transformers are made from materials imported from G7 countries such as France, Germany, Italy, Japan,...
III. MBT's transformer manufacturing process
How to manufacture MBT transformer?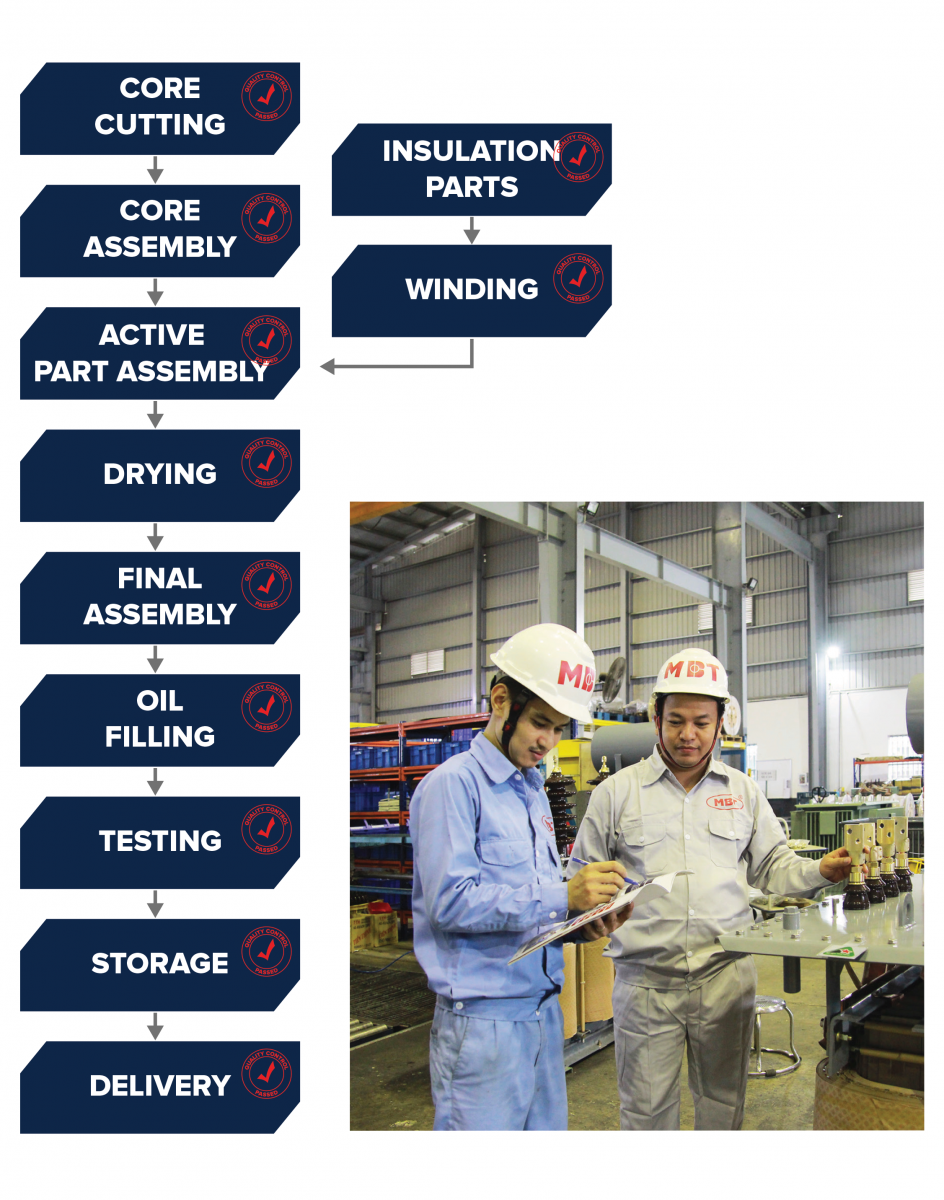 The manufacturing process of MBT transformer
1. Coil slitting machine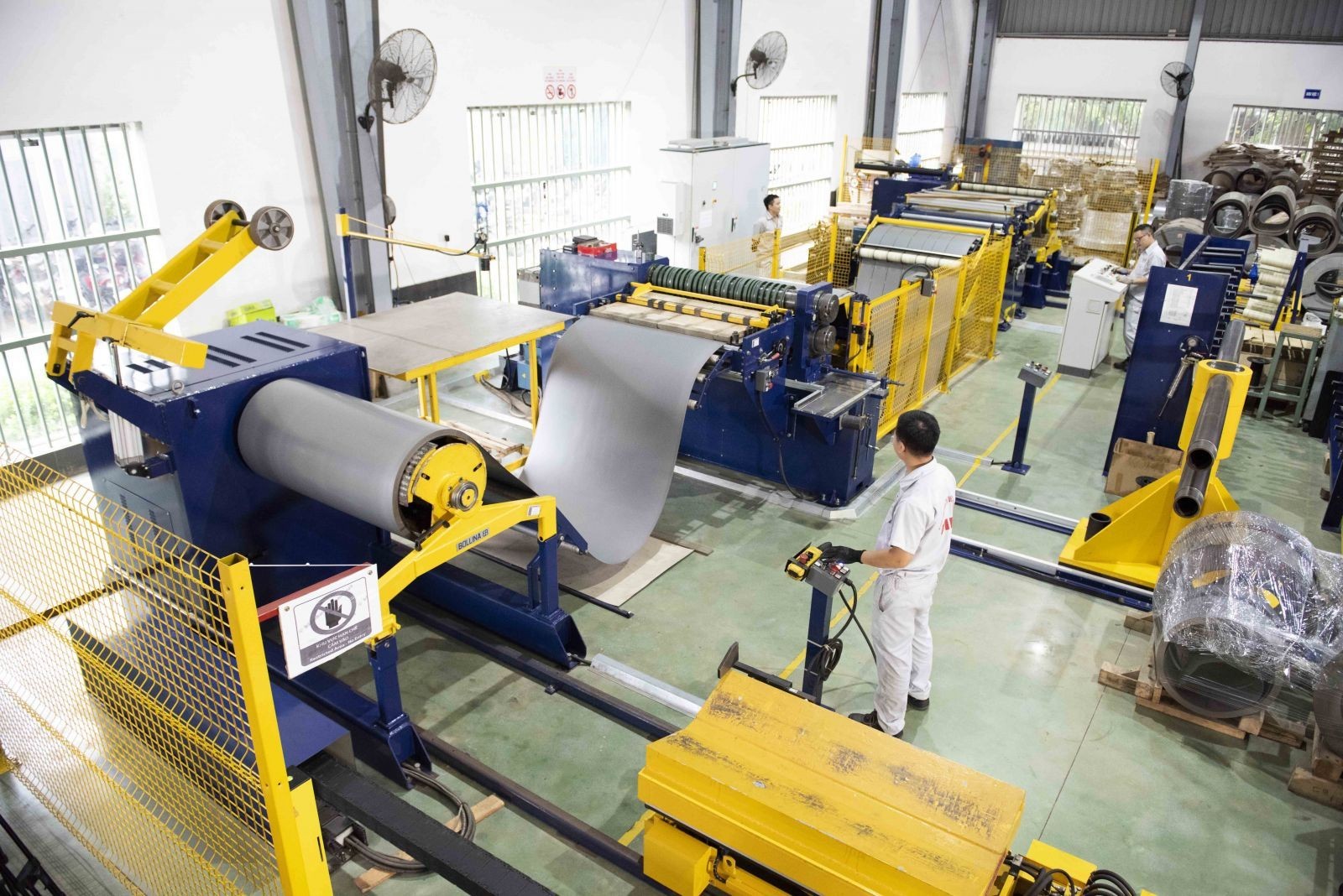 BOLLINA automatic sheet cutting machine line is imported directly from ITALIA by MBT
2. The coil cutting machine
Magnetic circuit steel sheet is made by cutting technology, continuous cross-cut, assembled with high precision. Thus, no-load loss, no-load current and noise are reduced during operation.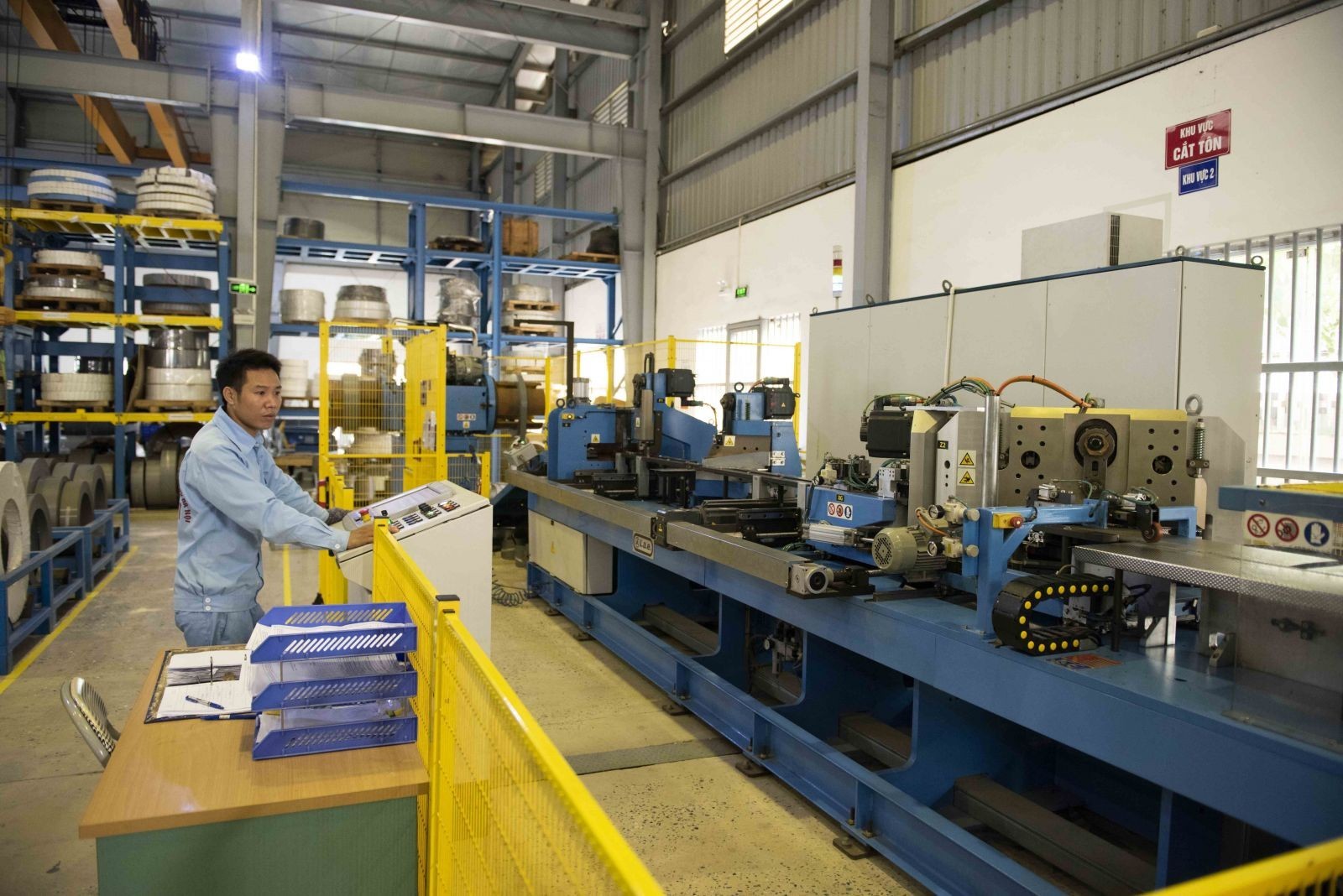 The electrical engineering steel sheet cutting machine line is imported directly from ITALIA by MBT
3. Automatic wing folding and sealing line
4. Laser cutting machine

LASER TRUMPF cutter imported from GERMANY
5. AMADA punching machine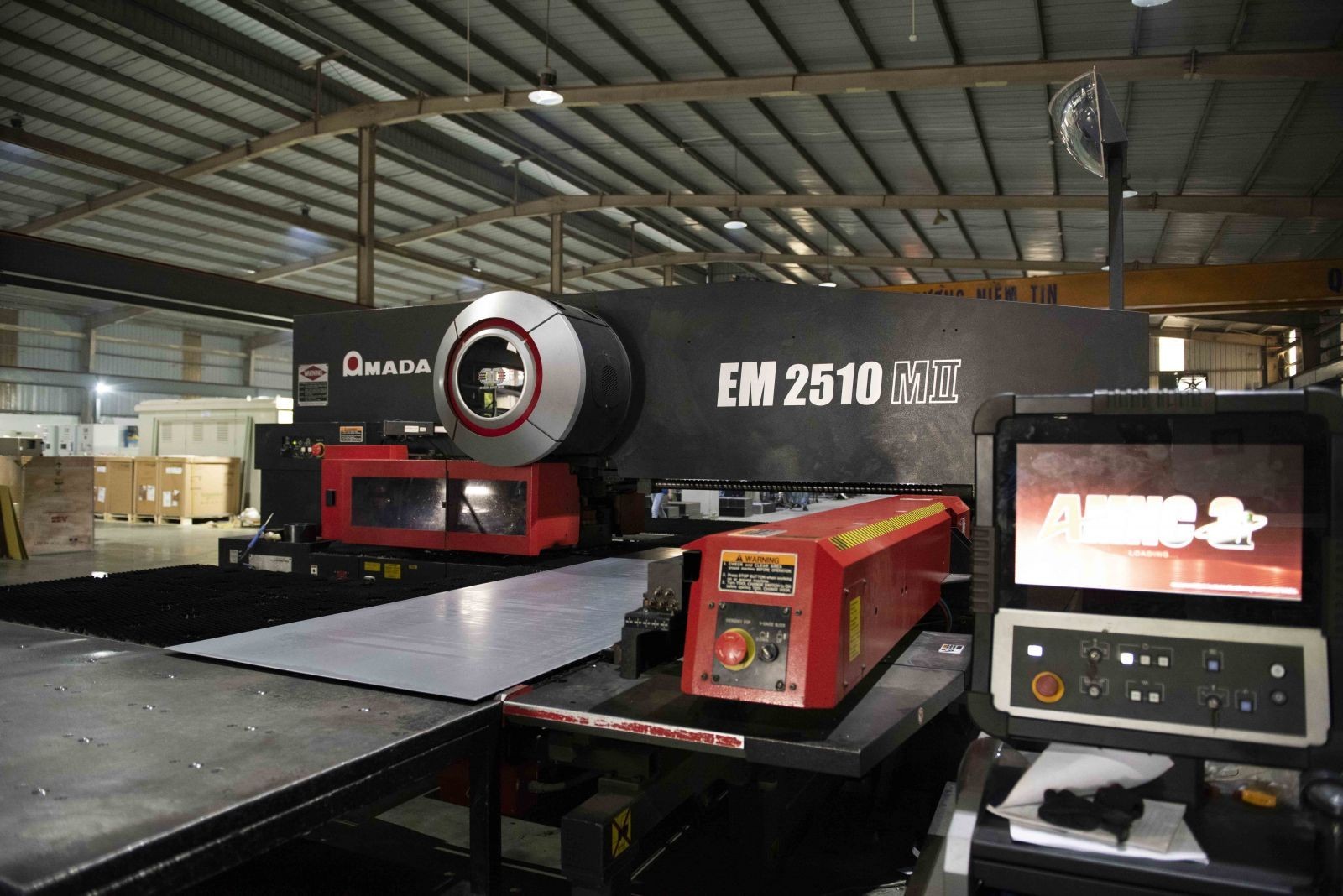 AMADA punching machine imported from JAPAN
6. TruBend 5170 folding machine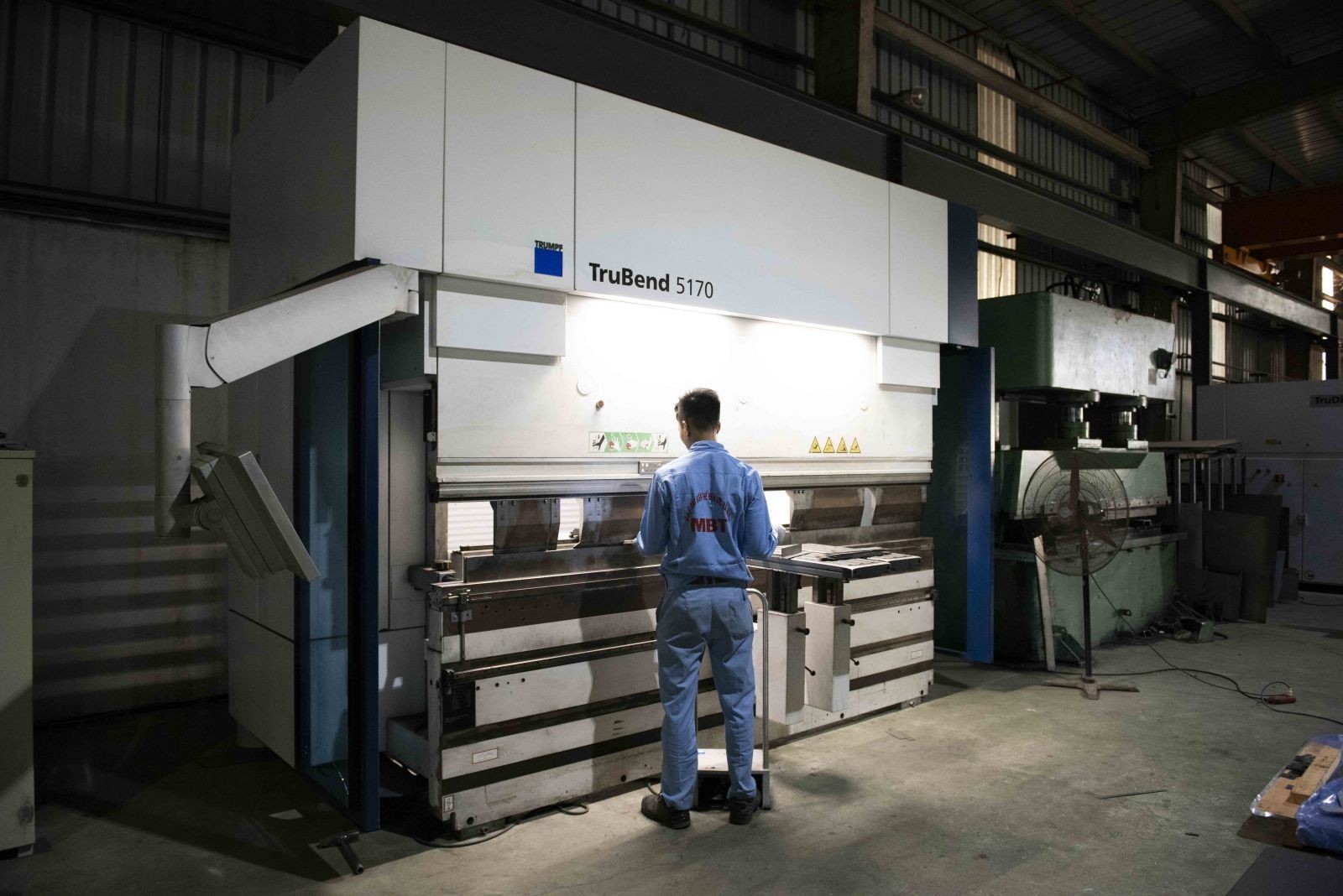 TruBend 5170 folding machine imported from GERMANY
7. Low voltage, high voltage winding machine
Low-voltage winding: The transformers with low-voltage winding are made of copper foil to reduce short-circuit losses and eliminate axial force and ensure the transformer's safety during short-circuit.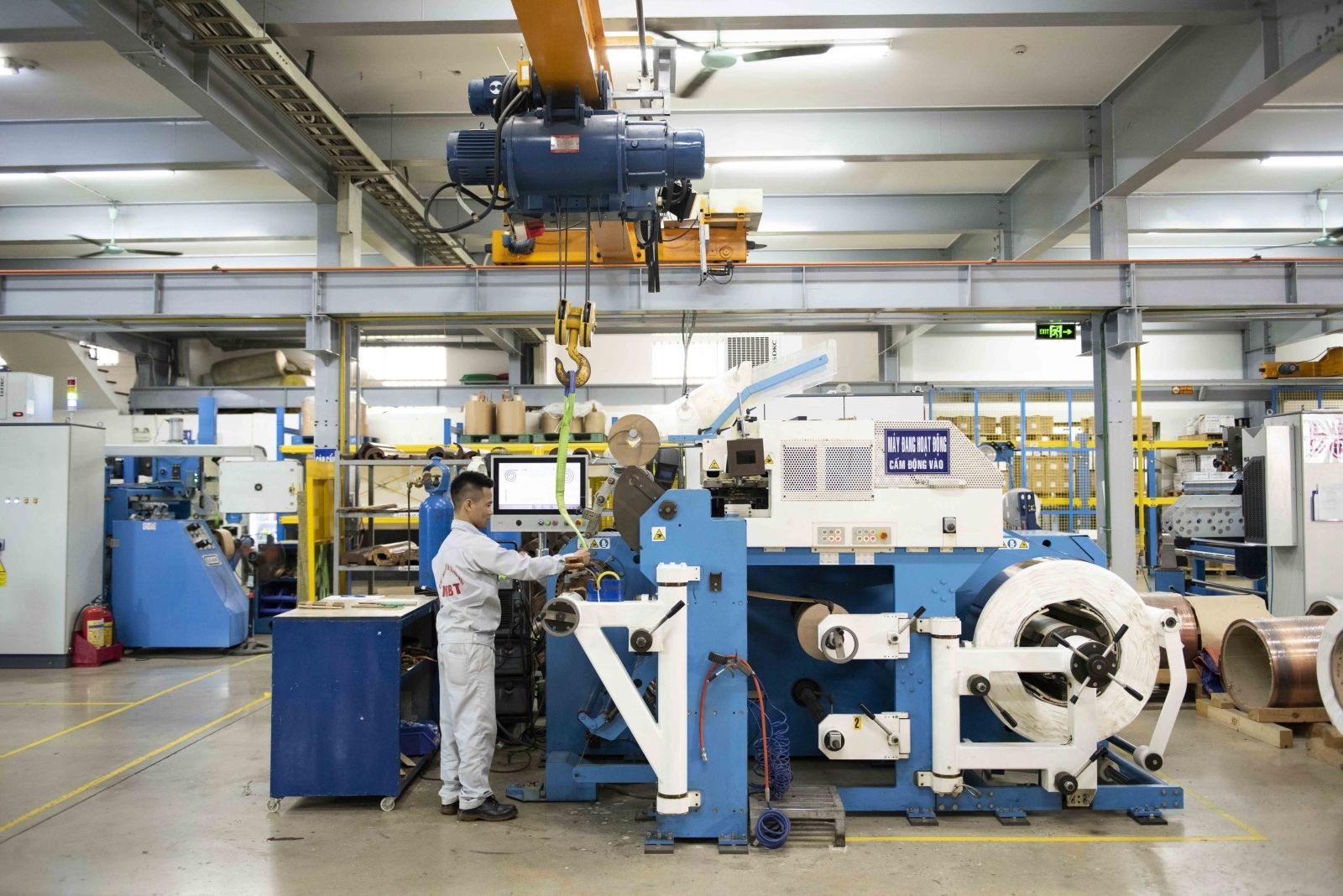 Low voltage winding machine imported from ITALIA
High voltage coil wrapped in layers, evenly distributed voltage when there is overvoltage or lightning. The layers are insulated with a special paper with high mechanical strength, heat resistance and high electrical insulation. In addition, there is an adhesive layer between the rings to prevent vibration and axial force during the transformer working and short circuit.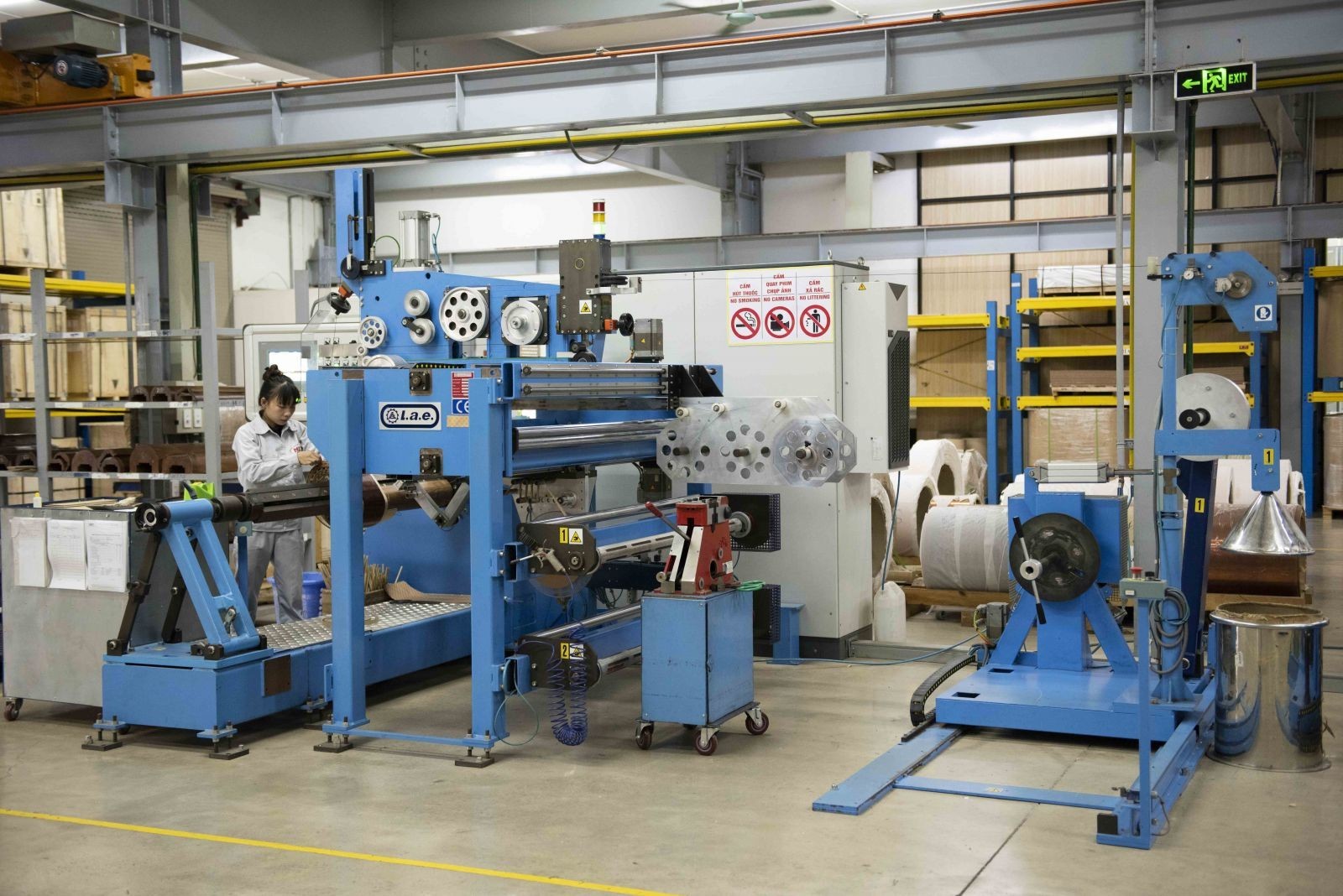 High voltage winding machine imported from ITALIA
8. Install the machine's gut
The assembly process of the transformer gut is carried out in line and checked on each stage. After the steel core is placed on the mounting base, install the coils on the post. After checking the insulation and centering parts, install the top beam with bolt clamps.
The output terminals are adjustable and covered with special insulating paper, positioning paper, and separation of wires to avoid confusion. The low-voltage terminals are fastened by bolts with connecting stakes or porcelain.
9. Vacuum drying system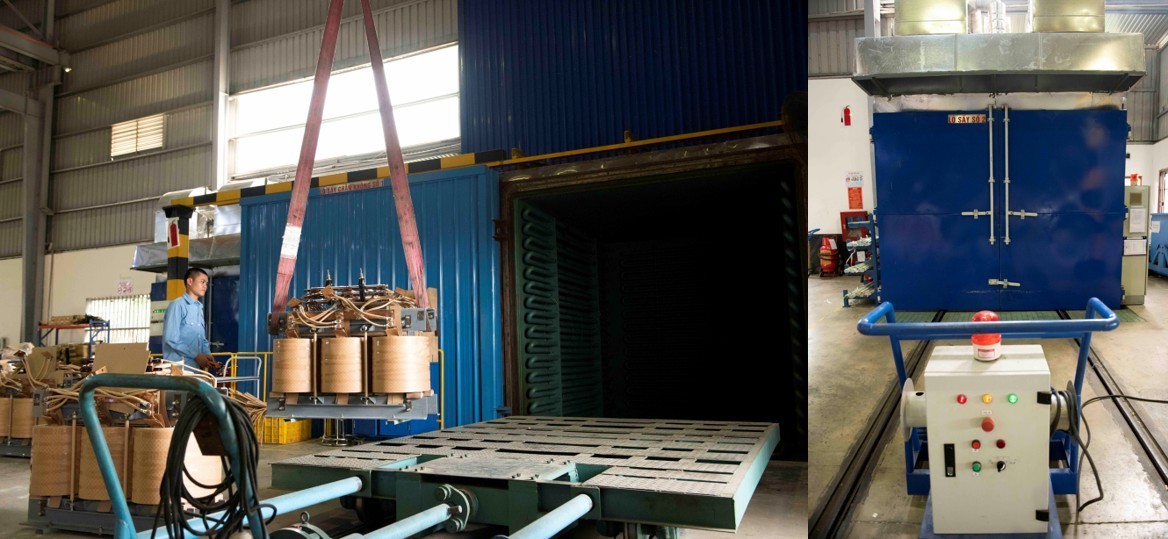 10. Complete assembly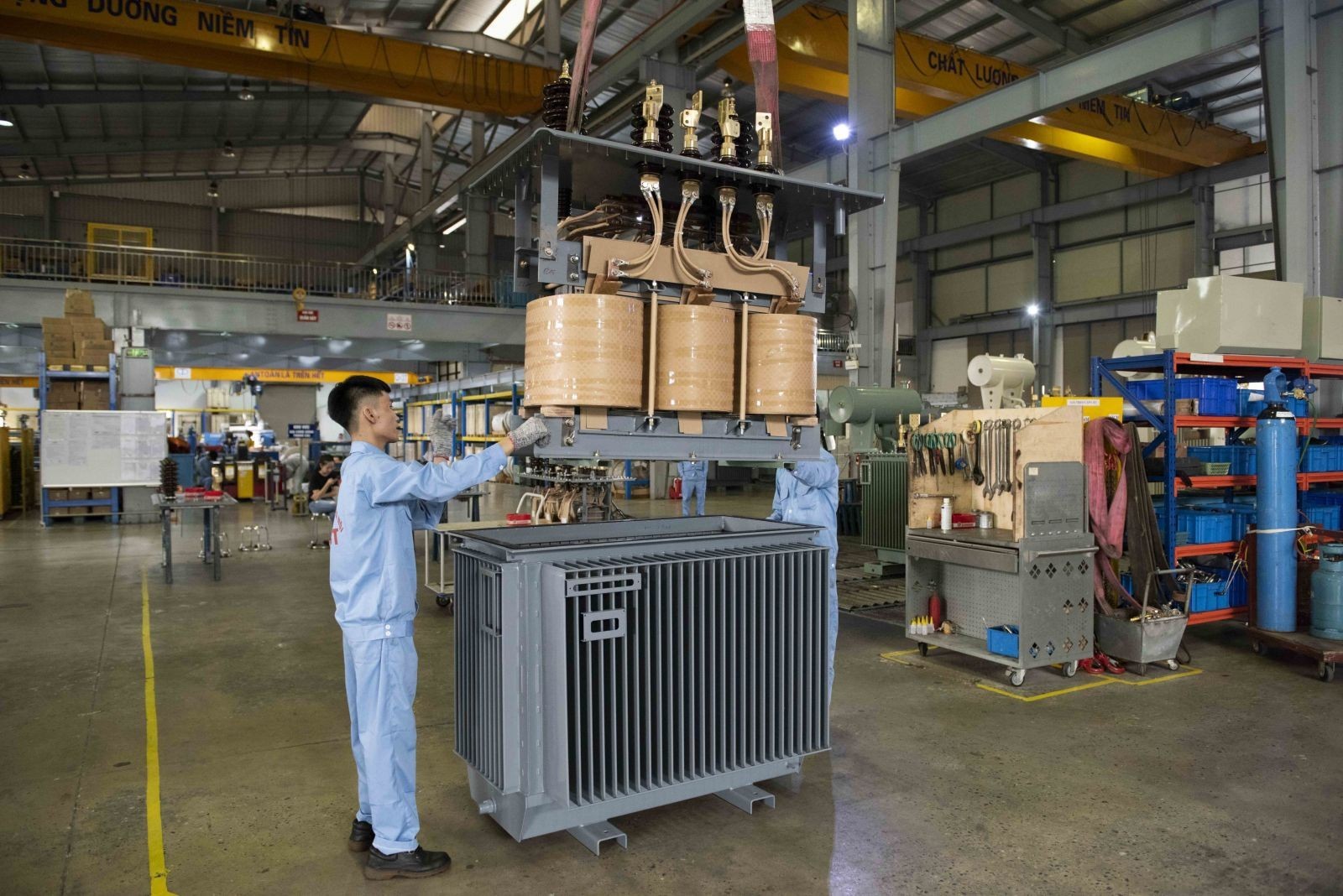 11. Vacuum oil filling chamber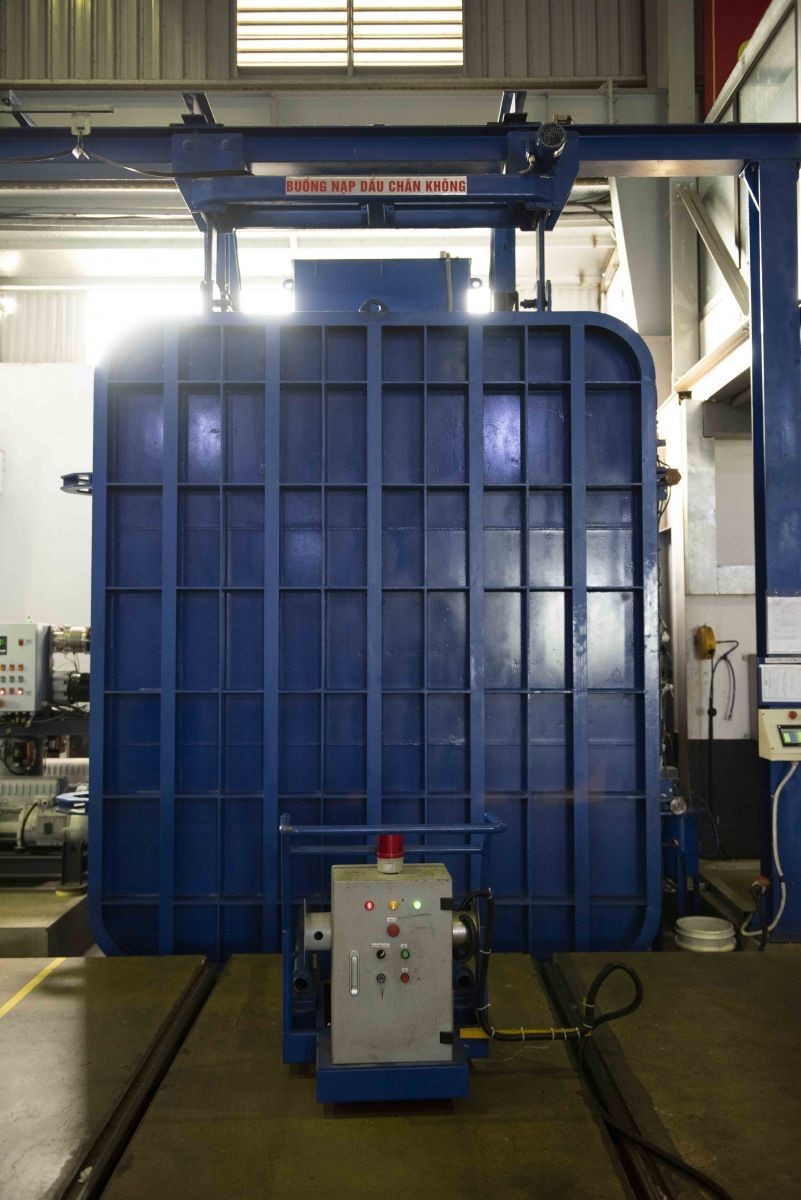 12. Powder coating line

13. KCS laboratory
All MBT products undergo strict quality control at all stages from input material to output product testing, ensuring that every product meets stringent requirements, according to international standards: IEC-76, ANSI, TCVN 6306.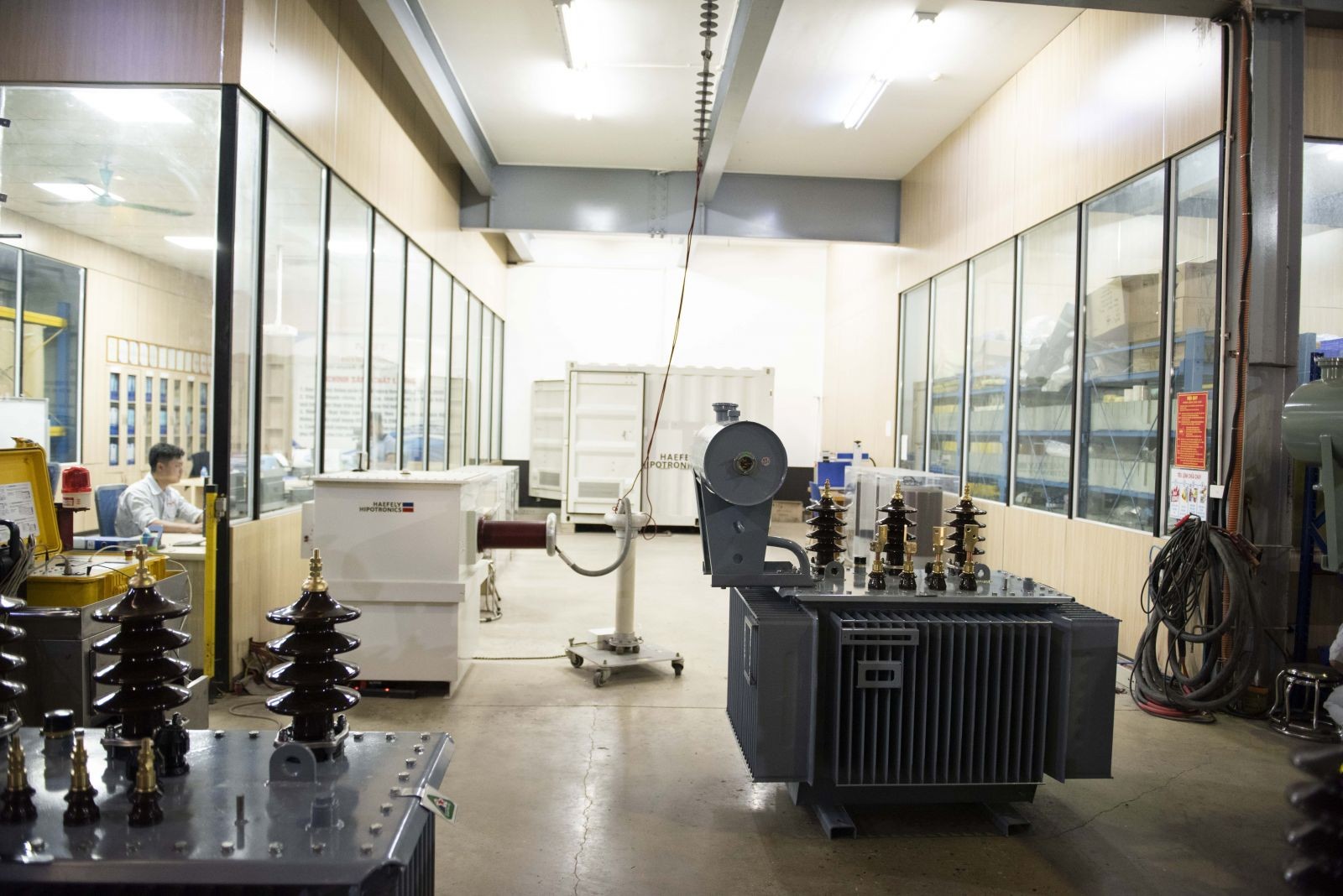 Independent laboratory meets Vilas standard 1113- ISO 17025 2017
Reference articles:
difference between stepup and stepdown transformer
step up transformer definition
Continuing the mission in the context of regional and world integration, with the impact of the industrial revolution 4.0, the tradition of innovation and innovation focusing on quality, MBT always launches a line of high quality transformers and perfect value-added services. Apply information technology in the management and operation of transformers, bring practical values ​​to customers and the society, and contribute to the development of a modern and sustainable Vietnam electricity industry.
MBT factory
With high-quality transformer, attentive, professional services, and reasonable price, MBT will be the customer's reliable choice! Contact us [email protected] or +84913006538 to get your quotation.