Let's look at MBT's memorable " shake hands"
Over 11 years of operating in manufacturing electrical equipment, MBT has become one of Vietnam's leading transformer manufacturing enterprises. To have this position today, besides the company's continuous efforts, it is also thanks to the MBT's partner cooperation for mutual development.
1. Cooperation for mutual development between EPU and MBT
On May 28, 2020, at the Hanoi Electricity Power University (EPU), the Memorandum of Understanding between Hanoi Electric Power Transformer Manufacture Joint Stock Company (MBT) and Hanoi Electricity Power University (EPU) was signed.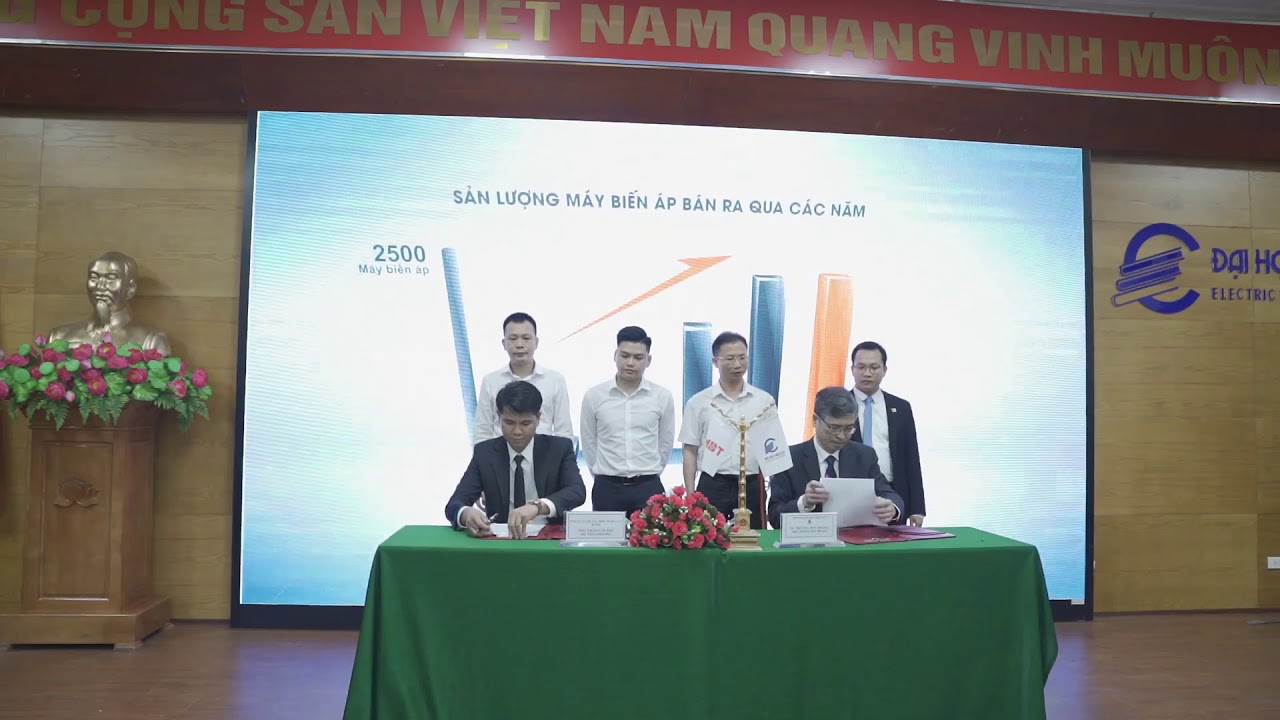 Mr. Tran Van Bac - Deputy General Director of MBT (left) and Ph.D. Truong Huy Hoang - Secretary of the Party Committee, Principal of the school (right)

The forerunner of Electric Power University is the School of Practical Technics, established in 1898. Over 121 years of construction and development, the Electricity Power University is now a public multi-level, interdisciplinary university. The main task is to train high-quality human resources for the industry and serve the socio-economic demands while also being the industry's leading science-technology research center. With nearly 10,000 students, EPU currently has 18 general higher education programs (of which 11 have recruited and organized training), 8 high-quality university programs, 4 doctoral training majors and 7 MSc training majors.
With more than 11 years of experience, Hanoi Electric Power Transformer Manufacture Joint Stock Company (MBT) is a young enterprise in the sector. Still, it has gradually affirmed its leading position in electrical equipment manufacturing, especially transformer products in the Vietnamese market. MBT's products are not only trusted by domestic units such as EVN and PTC but also reach out to the world; Many partners and projects already have MBT products in developed countries such as Japan, Korea, Singapore, ... besides, MBT's products are also available in other developing countries such as Laos, Cambodia, Thailand, ...
The Electricity Power University and MBT have cooperated in supporting scientific research and product development, especially in training and recruitment, thereby creating many job opportunities for EPU students after graduation.
The signing between the two partners is the foundation for EPU students to have a stable and professional working environment. Meanwhile, the MBT also can improve the specialist skills of projects that the company is implementing domestically and abroad.
2. Strategic cooperation between MBT and Saigon Sunlight
On July 20, 2019, a Strategic Cooperation Contract between Hanoi Electric Power Transformer Manufacture Joint Stock Company and SG Sunlight I.T Co., Ltd was signed.

The cooperation creates close linkages between manufacturers, distributors, installation, maintenance, and industrial electrical equipment repair. Immediately after the signing ceremony, the order to supply transformers for the solar energy project with a total capacity of 25MW was deployed by the two sides.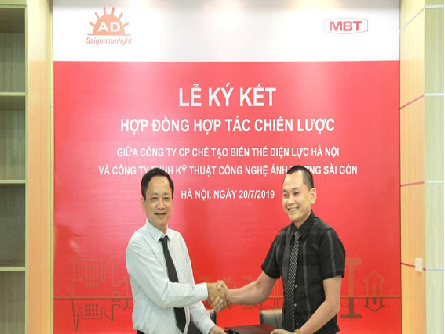 Mr. Tran Hoa Nam - Director of Saigon Sunlight (left) and Mr. Ngo Minh Tuan – Late managing director (late MD) of MBT (right)
Saigon Sunlight is known as the leading company in supplying and repairing large-capacity transmission and distribution transformers. Possessing the drying technology by spraying hot oil steam in a vacuum environment, Saigon Sunlight is the only Vietnam unit capable of repairing transmission transformers from 110kV to 500kV on site. The technology's unique feature lies in its 100% origin in Vietnam, researched and developed by Saigon Sunlight engineers.
The cooperation with Saigon Sunlight will help MBT improve the maintenance capacity of transformers supplied in the Southern Vietnam market. Meanwhile, Saigon Sunlight takes advantage of industrial production's strength that MBT currently has, especially in the manufacture of transformers, electrical substations, power stations, and industrial electrical equipment.
Besides, MBT also "shake hands" in strategic cooperation with many different partners such as Gia Nguyen Group Vision Joint Stock Company, Truong Hong Single Shareholder Limited Company, Ha Dung Group Joint Stock Company, Thang Long Investment Construction & Trading Joint Stock Company, Do Thanh Pacific Group Corporation, ... and many other foreign partners.