(RMU) Ring Main Unit: Definition, Construction, and Application
Table of Contents
1. Ring Main Unit (RMU) Definition
2. Structure of a Ring Main Unit (RMU)
4. Advantages of Ring Main Unit
6. Genuine distributors of RMU
1. Ring Main Unit (RMU) Definition
RMU (Ring Main Unit) cabinet or medium voltage cabinet is integrated electrical equipment to connect, measure, and integrate fixed type breaker with transformer protection function.
RMU cabinets are small in size, highly reliable, safe, easy to maintain, easy to replace, and expand. Depending on requirements, the RMU is available in different voltages suitable for both indoor and outdoor installations.
2. Structure of a Ring Main Unit (RMU)
The RMU cabinet is connected by output and input cable compartments by isolating breakers and cables out to transformers using load breakers and protective fuses.
In general, the switch element (including load breaker, cutter machine, and ground knife, busbar, and terminals) is placed in an SF6 gas tank made of a substance that is particularly resistant to the environment, such as dirt, oil grease, not rust.
RMU cabinets are divided and connected by separate compartments, with RMU standards with two compartments, four compartments, six compartments, depending on customer requirements with functions of them.
In the past, most protection schemes for medium / low voltage transformers in distribution grids used fuse combined with a cutter knife commonly. It's a simple and cost-effective solution. On the other hand, circuit breakers in the past were often expensive and used in high/medium voltage (HV / MV) stations instead of medium / low voltage (MV / LV) stations.
Recently, mid-voltage cabinet manufacturers such as Schneider Electric design a compact RMU cabinet breaker that incorporates SF6 gas insulators, self-powered relays, and optimized current transformers at a total cost of ownership the equivalent of a mid-voltage fuse-cutter solution.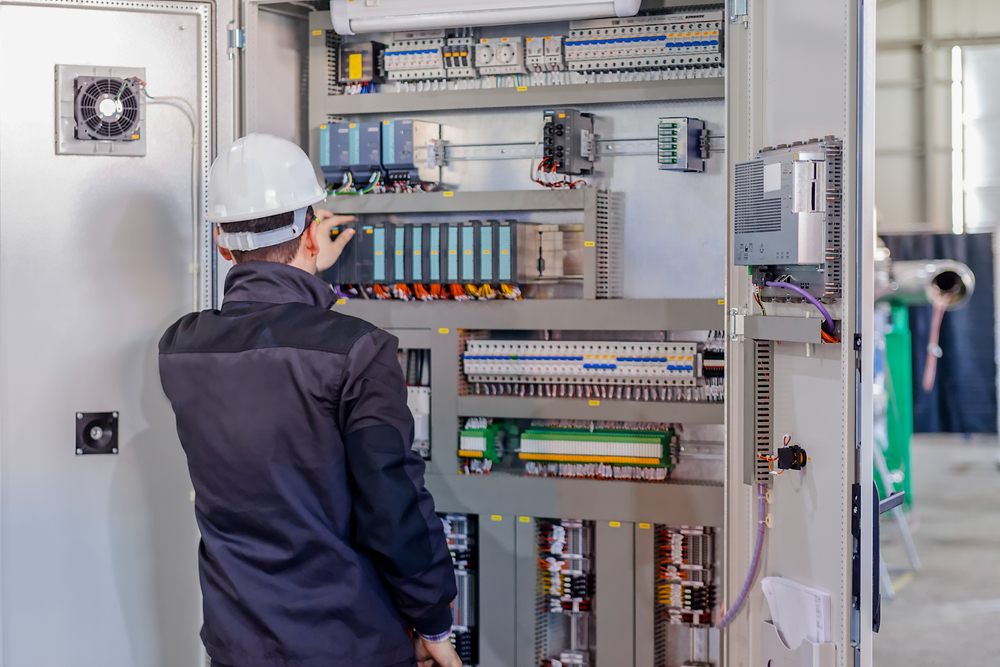 Inside the RMU cabinet
One of the reasons electricity contractors and private customers choose the circuit breaker solution is improving service quality while optimizing the investment costs. The circuit breaker with self-powered relays is more comfortable to install than the medium voltage fuse and suitable for combined upstream and downstream protection.
3. Purpose of using RMU
The essential functions of the switchgear are:
Circuit control: It controls the circuit to switch functions.

Isolation: It isolates the faulty equipment from the rest of the circuit

Protection: It protects the circuit from ground-fault current, short-circuits current fault, and overload.
Compared with medium voltage fuses, the circuit breaker combined with relays will enhance the ability to protect selectively; Avoid incorrect operation of the transformer's surge current; Detecting phase-to-phase fault currents and small earth intensity.
RMU electrical cabinets are used with many different applications in the secondary circuit distribution system, with the function of input switching for transformer stations, integrated transformer stations, etc., in many fields of business.
A video introduction of RMU cabinets:
4. Advantages of Ring Main Unit
RMU cabinets are an innovative solution that makes it easy to manage the many challenges of power distribution. The RMU is an all-in-one solution cause it is safe switchgear, easy to install, and free to maintain, helping utilities improve network reliability and uptime and reduce operating costs onions.
Reduce maintenance and spare parts: Today's relays require virtually no maintenance, as they incorporate self-test features. Furthermore, the protective circuit can be easily checked during commissioning with simple test equipment.

Better tolerance to harsh environments: The circuit breaker in the RMU cabinet is located inside the chamber filled with SF6 gas, so it is not affected by environmental conditions.

Improved protection against magnetizing overload currents, phase-to-phase fault currents, and ground contact current with low intensity

RMU help to better coordinate protection with other medium voltage and low voltage protective equipment.

Feature-rich compact design: Ring main unit is SF6 Insulated Compact Switch equipped with SF6 Switch breaker and vacuum circuit breaker. Its compact design does not require too much space to install and operate.

Saving time and money: The RMU is switchgear complete and easy to install, saves installation and operation time. Irrespective of the climate and withstand the environmental conditions, these units' operation and maintenance costs are also low.

Safety and Performance: RMU's state-of-the-art compact design and latest technologies ensure complete safety, connectivity, reliability, and efficiency.

Intelligence capabilities: Equipped with smart electronics and communication capabilities, RMU easily integrates with the Distribution Management System and builds Smart Grid solutions.

The lifetime of the device is over 20 years.

Stable operation in any extreme climatic conditions -2500C ÷ + 4000C
5. Types of Ring Main Unit
a. Based on the structure
b. Based on the kind of arc stamping in the gas chamber, insulation properties
Electrical insulation cabinet in an air environment

Electrical insulation cabinet in a vacuum environment

Electrical insulation cabinet in SF6 gas environment
c. Based on the voltage level
24KV cabinet

36KV cabinet
6. Genuine distributors of RMU
Currently, RMU cabinets used for switching stations are mainly imported from abroad from several major companies such as ABB medium voltage cabinets (Sweden), Siemens (Germany), Schneider (France), etc. The Schneider' RMU cabinets are trusted by customers to use more popularly because of its advantages.
MBT honor to be Schneider products' genuine distributor, especially RMU electrical cabinets, Recloser automatic switchgear. Customers who have demand for RMU cabinet products, please contact hotline +84913.006.538 or email: [email protected] for advice and a free quotation.
MBT is committed to providing genuine products with the most preferential prices and the best customer care services.
MBT- "Quality Nurtures Reliability"