Testing of MBT electric transformer - Transformer testing - transformer measurement
Testing a transformer or transformer measurement is one of the must-have steps in the manufacturing process and is complied with the stringent requirements of the current Electricity testing regulations.
So what is transformer testing and the testing process of transformers? To better understand, join with us to reading this article:
Table of contents
1. What is transformer testing?
2. What does the transformer testing process include?
3. Experimental procedure of MBT electric transformer
4. MBT transformers testing lab meet the standards of EVN and International IEC
Transformers are considered at the heart of the power transmission and distribution system. Therefore, transformers need to be thoroughly tested before operation. This is an important step that cannot be ignored, because if the machine breaks down or fails, the entire electrical system will be seriously affected.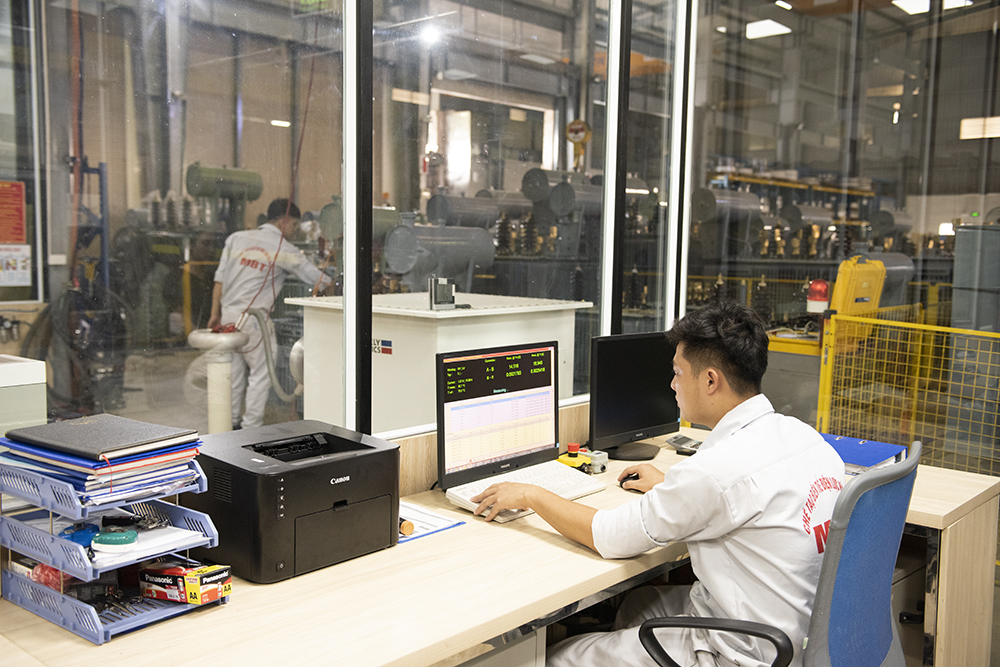 Transformer laboratory of MBT company
To ensure accurate and efficient results of transformer measurement and testing, MBT Transformer Laboratory is fully equipped with equipment such as:
WT 333 E digital power meter is produced from YOKOGAWA Japan.
Auto transformer with capacity of 150 kVA, voltage 0 ÷ 440 Vol is manufactured from ABB.
100 Hz generator with rated power of 50 kW is manufactured from Hitachi - Japan.
150 kV high-voltage transformer with rated power 100 kVA manufactured from MBT electric.,JSC
Impulse voltage test systems up to 400kv
In addition to the above equipment, the laboratory for MBT transformers is also equipped with a full range of measuring machines and equipment such as: 20A resistance measurements; the 2500 V Megomet Kyoritsu insulation meter; wiring team meter; Test equipment for insulation up to 80 kV …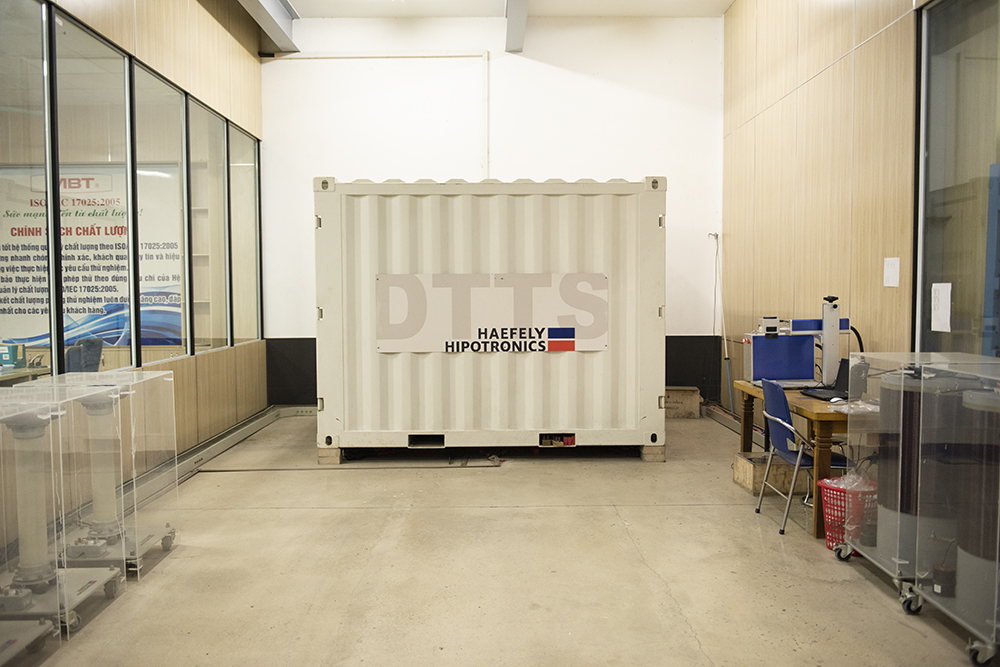 MBT's transformer-specialized testing room

3. Experimental procedure of MBT electric transformer
All 100% of MBT transformers, prior to release, are tested through the following items:
Check insulation

Check the transformer turn ratio and the wiring connection

Check resistance of high-voltage and low-voltage windings

Check for no-load loss and no-load current

Short circuit test of transformer

Check main insulation (high voltage)

Check for over-voltage
In addition, there are many other parameters that are evaluated by the KCS testing department based on each specific machine that can test some other special items such as:
Type tests for dielectric (IEC 60076-3).

Determination of capacitance between windings to earth and between windings

Determination of transient voltage transmission characteristics.

Zero sequence impedance measurement for 3-phase transformers.

circuit breaker resistance test (IEC 60076-5).

Noise measurement (IEC 60551).

Measure the harmonics of the no-load current.

Measure performance of fans and oil pump motors.

Measure the electrical insulation resistance to earth of the windings.

Certificate of "Testing laboratory for transformers of MBT meeting ISO / IEC 17025-2017 Vilas 1113"
MBT Electrical Equipment Joint Stock Company with transformer brand MBT is one of the units recognized by the "Quality Accreditation Office" under the Ministry of Science and Technology as a testing laboratory for transformers which meets ISO / IEC 17025 -2017 standard of Vilas 1113.
Thanks to the rigorous inspection process, all MBT transformer products, before delivering to customers, satisfy international standards, Vietnamese standards (TCVN) as well as regulations of the electricity industry in foreign and domestic areas. In addition, with production orders based on specific requirements, the transformer test and testing process is witnessed by the investor, ensuring the best product meets the needs of customers.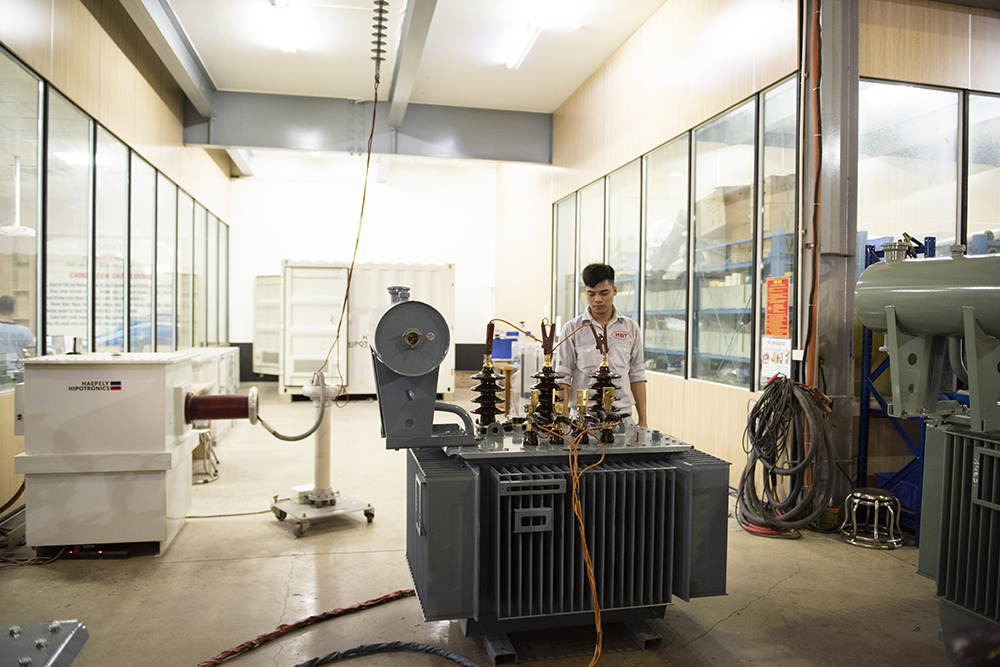 Picture of "Check and test MBT transformer before leaving the factory"
Understanding the role of product testing before putting into use and operation, all MBT-branded transformers of MBT Electrical Equipment Joint Stock Company meet current standards such as:
Standards IEC 60076-1-2-3-5: 2011 and TCVN 6306-1-2-3-5: 2015.

Vietnam Standard: TCVN 8525: 2015 on energy efficiency of transformers.

Standard according to Decision 1011 / QD-EVN NPC dated 7/4/2015 of Northern Power Corporation on promulgating loss standard in transformer distribution.

Decision No. 62 / QD -EVN dated 05/05/2017 of Vietnam Electricity corporation.

Standards of Central Power Corporation: Decision No. 6954 / QD-EVNCPC dated July 31, 2019 of Central Power Corporation.

Standards of Southern Electricity Corporation: Decision No. 2608 / QD-EVNSPC dated September 3, 2015 of Southern Power Corporation.

Standards of Electricity of Ho Chi Minh City: Decision No. 3370 / EVN HCMC-KT dated September 4, 2018 of Ho Chi Minh City Electricity Corporation.
Above are the basic knowledge about electric transformer testing, in order to better understand the testing of this product, you can contact us on hotline +84 913 006 538 or email: [email protected] for support and enthusiastic and thoughtful advice.