MBT Applies 4.0 Technology in Manufacturing The Transformer
Innovation and application of advanced technology is an important key to deciding the success or failure of an enterprise. During the past time, MBT Electrical Equipment Joint Stock Company has actively invested in advanced production lines to innovate and improve product quality to quickly catch up with the Industrial Revolution 4.0.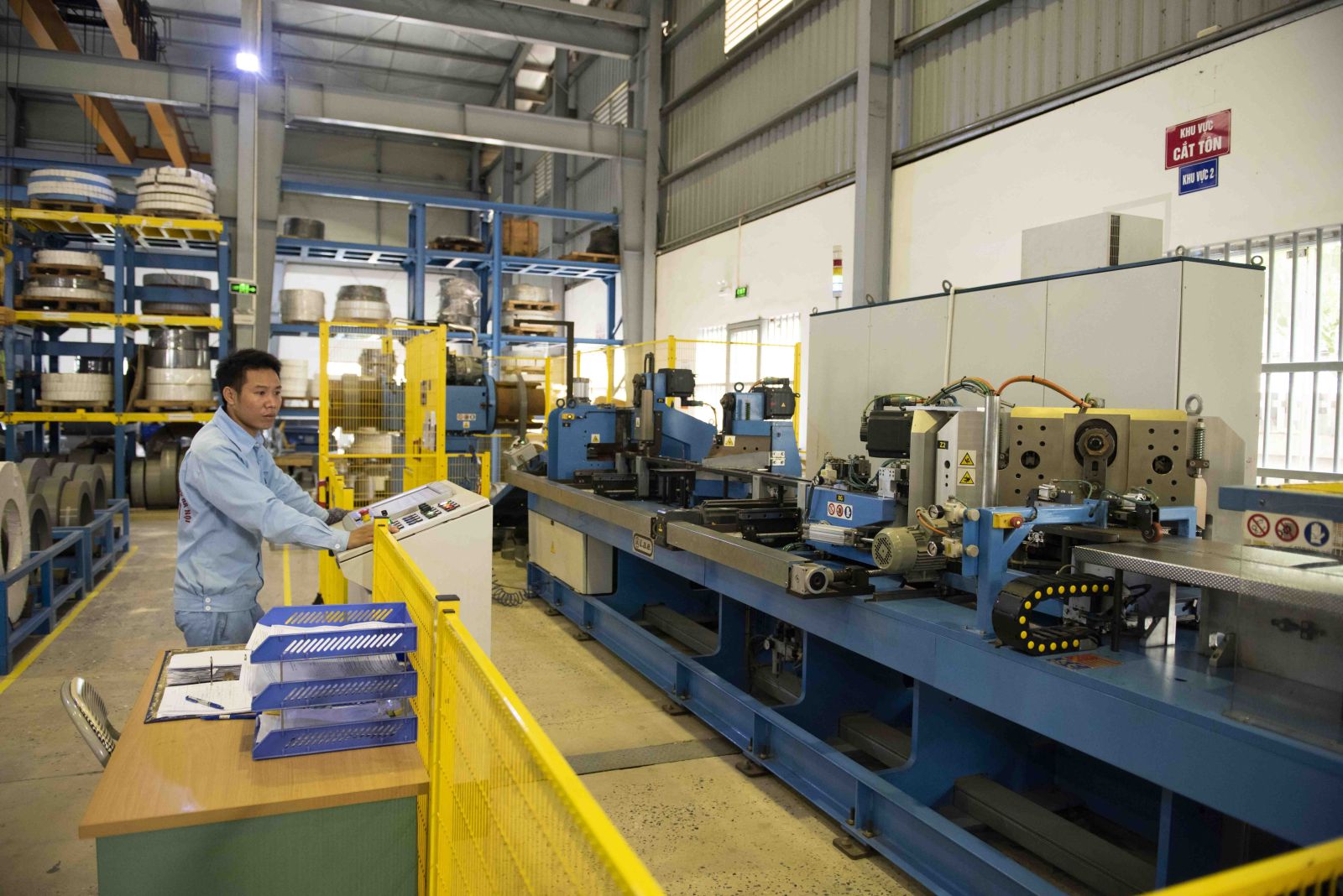 LAE Automatic cutting line
MBT is an enterprise specializing in manufacturing and supplying transformers and electrical equipment. During the past time, due to the right strategic orientation, MBT's products have been favored by the domestic market, appeared in many key projects. Besides, MBT's market is expanded not only domestically but also exported to markets in regional countries such as Laos, Cambodia, Philippines, Australia, etc.
To get this outstanding result, besides the innovative management method of the Company's Board of Directors and the enthusiasm of all employees, a huge part is due to the Company's investment in the application of modern and advanced scientific and technical machinery to produce.
It can be said that the innovation of production technology is an activity in the development strategy of MBT with the goal of creating outstanding products, increasing output to expand market share and develop markets, diversifying products in the direction of quality difference to position the brand, reduce consumption of materials, raw materials, energy, labor, management apparatus... to improve competitiveness in the domestic market and promote exports to foreign countries.
Currently, MBT's production line system and factory have been invested according to G7 standards. In particular, recently MBT has put into operation the Ecoline TBA 400 - Georg silicon core production line with many outstanding features and advantages.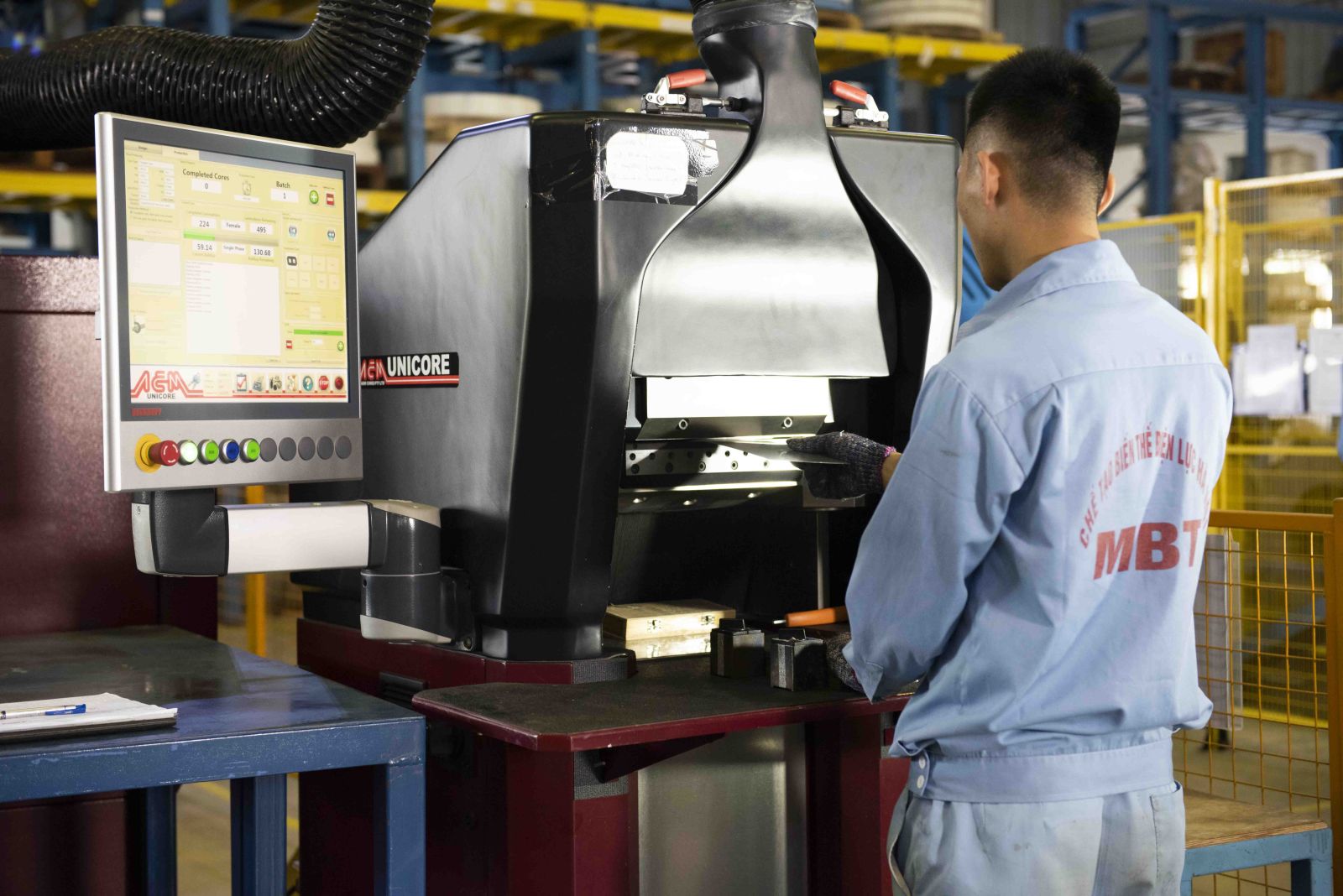 Unicore core cutting machine
Specifically, this production line helps increase productivity three times, shortens the lead time with high accuracy and low tolerance, and processing loss. With a wide cutting range, the new line can cut steel with a thickness of up to 0.18 mm, from which it is possible to produce transformers with large capacity, low loss of steel. The ability to punch holes on the product of this new technology line helps to shorten the time for core grafting. In particular, this equipment helps to ensure labor safety because the line is designed tightly, has protective shields, and is fitted with safety sensors. In addition, the new line is also connected to a robotic system and a digital system, all of which are manipulated on a computer to ensure high accuracy.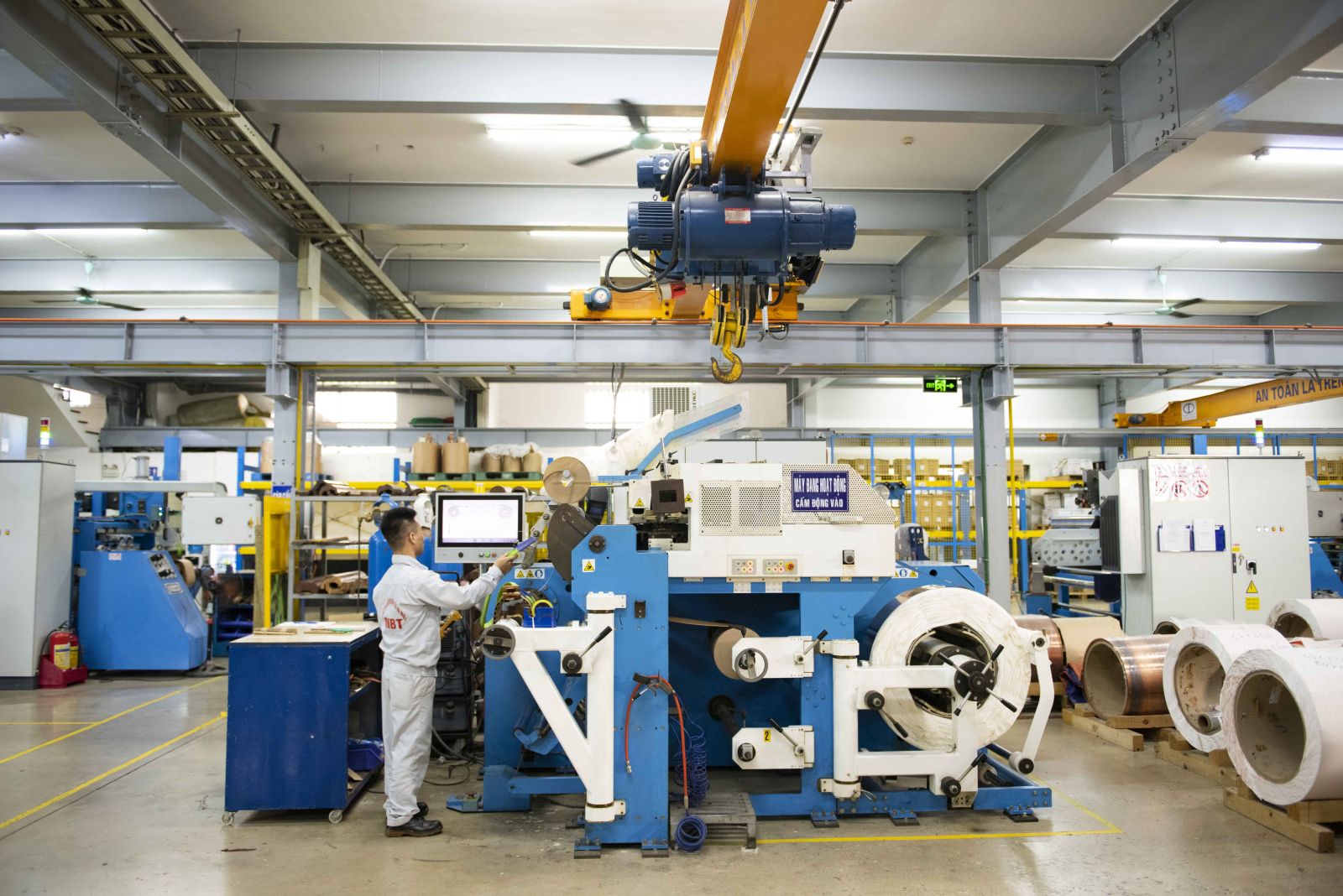 LV winding machine
Recently, MBT has also upgraded its coil manufacturing technology with the commissioning of Synthesis - India's Automatic Winding Machine GLI800. The obvious advantages of this new machine are: Automatic operation; controlled by CNC system; connected via the internet, digital technology, can be controlled from the technical room. In addition, the paper and wire spreading system is operated automatically, helping to increase productivity 5 times than the semi-automatic system. In particular, it is possible to flatten the conductor to increase the contact surface, thereby reducing the coil size. The product is formed with high aesthetic and technical standards, making it more resistant to radial electromotive force than with conventional windings.
The tank manufacturing technology has also been upgraded with the VLF 6020 laser CNC cutting line, creating high-precision products with low tolerances, only 0.03mm, to help product design achieve aesthetics. Compared with the old technology, the new technology has high output, simple operation, and reduced production manpower. The system is also operated automatically and installed from the technical room.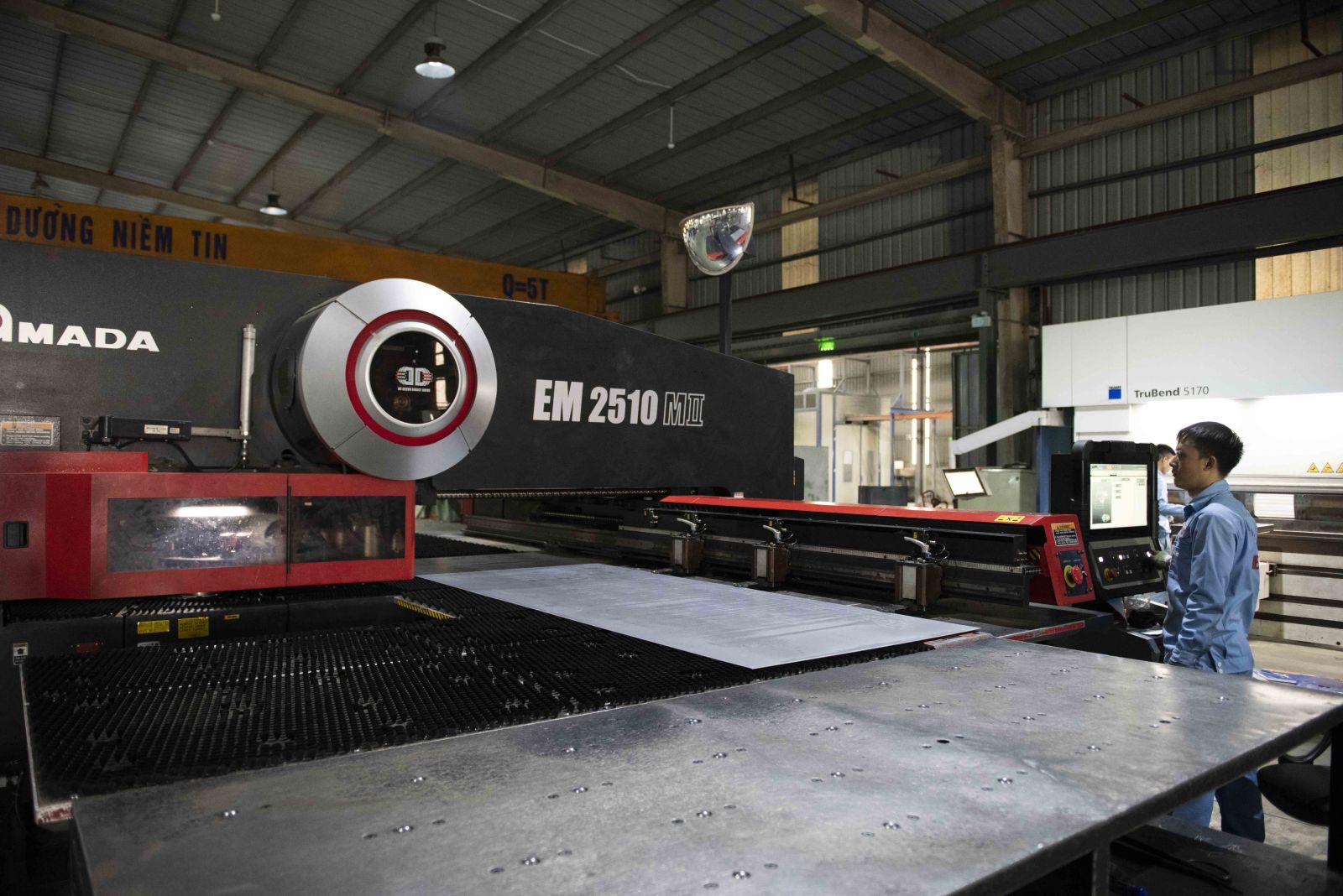 VLF 6020 laser CNC cutting line applied in tank manufacturing technology
MBT General Director - Tran Van Nam said: "In order to constantly improve product quality, during the past time, MBT has implemented many synchronous solutions. In particular, we continuously invest in new technology to create more optimal products, meeting the increasing requirements of customers. In order to catch up with the Industrial Revolution 4.0, in the coming time, the Company will continue to invest in modern and high technology in production, with automatic operation with digital connection, in order to reduce dependence on worker skills. Simultaneously, the software is applied to control material planning, production planning, quality control, and warehousing…".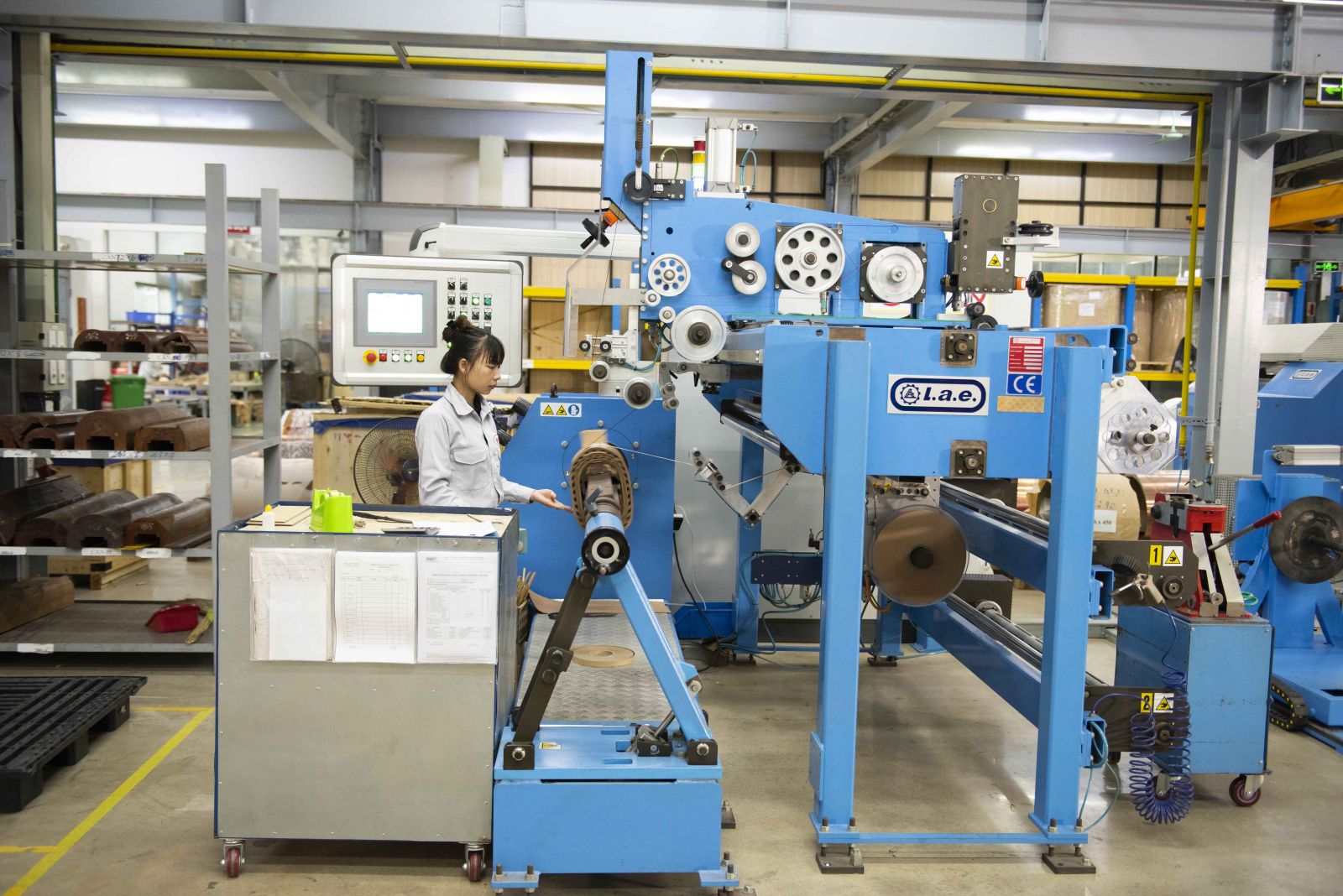 HV winding machine LAE
During the past few years, the domestic transformer market has become increasingly competitive. In particular, the outbreak of the Covid-19 pandemic has caused many businesses to face real difficulties in production and business. Therefore, MBT's Board of Directors recognizes that it is necessary to explore the "blue ocean", find markets with few competitors, which have never been exploited, namely foreign markets to access product promotion. But in order to stand firmly in the foreign market, the product needs to have high quality and perfection. That is also the problem that MBT is trying to solve step by step. If you want to reach the big sea, you must be professional right from the smallest details. The application of the 4.0 technology chain and technology has become a key factor to improve product value and quality and open up new opportunities for MBT in potential markets.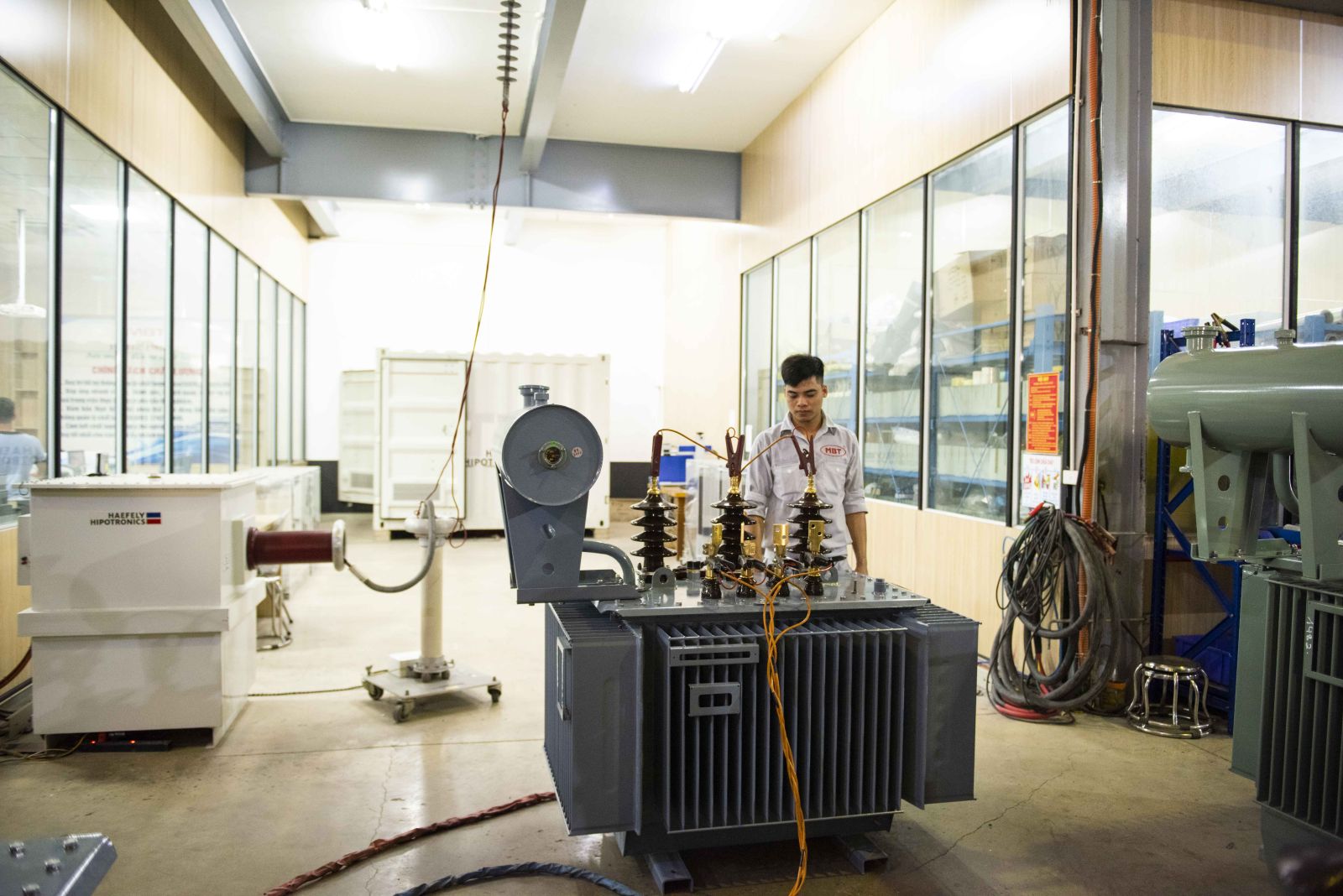 Labs meet VILAS 1113 - ISO 17025 2017 standards
In addition to technological solutions, in order to continuously improve product quality, in the coming time, MBT will continue to focus on 5S solutions: Quality control, productivity increase, labor safety, creating a clean production environment, detecting and eliminating waste in production. The company will also take many measures to improve the quality of human resources such as Training personnel at the leader level, at the management level on production processes, 5S, Lean; Training to improve skills for workers monthly; 3 layers of product quality control including Production workers; head of the control department; QC's control. Other measures on lines and mechanical systems are also regularly focused such as: Applying TPM control system; setting up and rearranging the entire factory system; especially the application of Kanban cards to the management of supplies (right quantity, right type, right location).