7 main trends for the sustainable energy future
At the online conference "Asia - Pacific Energy Week", with the theme "Building future energy", the leading energy leaders in the Asia - Pacific region identified seven key actions to ensure a sustainable energy future; carbon neutralization is paramount for the region's sustainable energy development.
The conference took place for two days (March 9-10, 2021). The main objective is to focus on promoting the ecosystem of cooperation and co-creation among stakeholders to meet the world's sustainable development goals, promote economic development, create new jobs and industries, improve social well-being, and achieve zero carbon by 2050.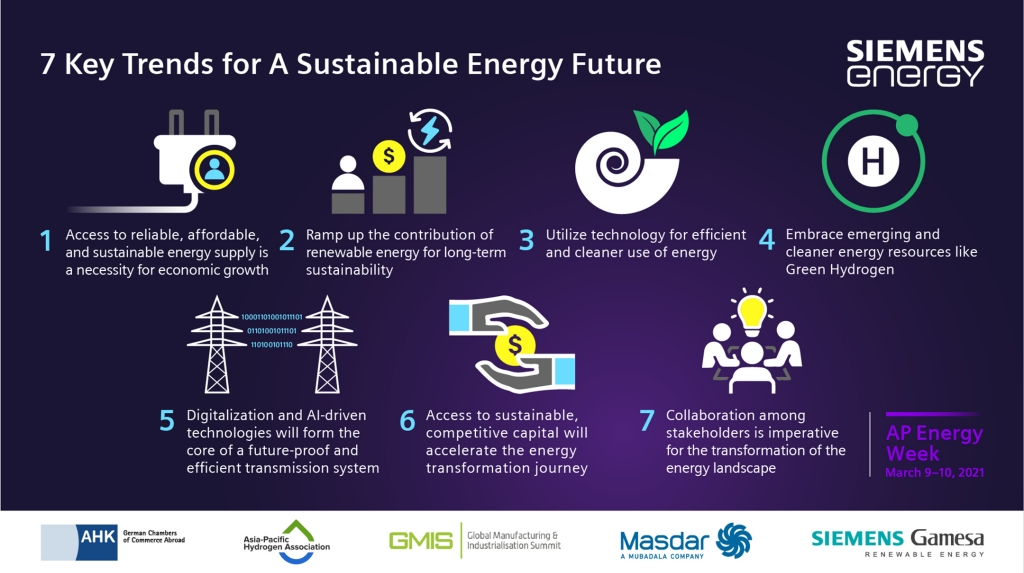 7 main trends in the sustainable energy future
Accordingly, seven successful energy trends toward a sustainable energy future have been identified:
First: Identifying access to a reliable, affordable and sustainable energy source is an essential economic development element.
Second: Increase the contribution of renewable energy to long-term sustainable development.
Third: Optimizing technology for energy efficiency and cleaner.
Fourth: Catch up with emerging and cleaner energy sources (such as Green Hydrogen).
Fifth: Digital technologies and AI technologies will form efficient and accepted transmission systems in the future.
Sixth: Access to competitive and sustainable capital to promote the energy transition.
Seventh: The cooperation of partners is also an urgent condition to change the energy panorama.
Online conference "Asia - Pacific Energy Week", with the theme "Building energy future".
According to Mr. Christian Bruch, President and CEO of Siemens Energy Group: As the fastest growing economic region in the world today, the Asia-Pacific region is in the process of increasing urbanization. The pupulation increases so the energy demand is huge. With the Asia-Pacific accounting for more than half of global consumption and with 10% of the population still experiencing power shortages, the question is how to build a reasonable power supply about price, reliability and sustainability while continuously improving access to energy.
Indonesian Minister of Energy and Mineral Resources - Arifin Tasrif said: According to the National Energy Strategy, Indonesia hopes to bring more renewable energy into the energy system with about 23% of total energy by 2025. This means that an additional 38 GW of renewable energy will be added by 2035.
Indonesia has a lot of resources from fossil energy sources such as coal, oil and natural gas, and great potential for renewable energy, which are all basic energy sources. In the next 10 years, Indonesia wants to upgrade its technology to build capacity and infrastructure, including 10 key power transmission projects, 7 smart grid and renewable energy projects. Indonesia is accelerating the transition from diesel plants to renewable energy plants, with the aim of reducing carbon emissions by 0.7 million tons
Dr. Jochen Eickholt - Board Member - Siemens Energy AG said: Asia - Pacific is not only the fastest-growing region but also the fastest converting market. With more than 50% of its investments, Siemens Energy is based on carbon reduction technology and more than 20% of its revenue is generated from the Asia-Pacific region, and they will commit to supporting these countries towards reducing carbon emissions. Through the process of promoting the transition from nuclear, coal to gas and providing grid technologies that support the integration of renewable energy sources.
According to MP Hon Dan van Holst Pellekaan - South Australia Minister of Energy and Mining: Green Hydrogen Gas is the key to meeting energy export expectations to the world. At the same time, it affirms the belief that South Australia can become the supplier of Hydrogen for the Asia-Pacific region. As the first Australian authority to introduce the Hydrogen vision through the Hydrogen Roadmap 2017 and underpinned by the Hydrogen Action Plan 2019. This action plan outlines 20 specific activities through five important topics. To expand the scale of renewable hydrogen production for domestic consumption and international export
"Digital technology is the future. The benefits gained from digital solutions will increase exponentially. Digitalization helps to maximize asset management and work performance, especially during the epidemic "- Mr. Ronnie L. Aperocho - Deputy General Director of Networks Meralco Philippines, affirmed.
Mr. Christian Bruch - President and CEO of Siemens Energy Group said that: To transform global energy systems successfully, it is necessary to have stable financial sources. Taking Europe as an example, Siemens Energy needs about 30 trillion Euros by 2050 to reduce carbon across the system. Accomplishing this crucial task requires the right private funding and policy framework. All need cooperation. And this is growing constantly.
According to Mr. Dato 'Nor Azman bin Mufti, CEO - TNB Power Generation (Malaysia): Achieving zero carbon emissions requires completing a supply chain of understanding, cooperation and Consensus among the parties, particularly lawmakers, government and consumers. The transition from fossil energy to renewables requires political, legislative and policy direction in place, a willingness to accept change and Consensus of customers, who are willing to pay higher prices for renewable energy. For Malaysia, solar energy will be the most energy source people find, followed by wind power. Simultaneously, the amount of stored batteries will be a game-changing factor for the energy industry in the future.
Mr. Francesco La Camera, General Director of the International Renewable Energy Agency (IRENA) emphasized: To have a sustainable energy future, we need to work together. The public and private sectors have to act together for two main goals.
First: Private sector capital needs to accelerate investment and need further cooperation between the two public and private sectors.
Second: Companies need to transform incorporate business strategies into viable business models, develop viable projects, and drive technological innovation.