Recloser Schneider 3 Phase Automatic Closing Set
Product specifications
Maximum permissible voltage 27kVA

Rated continuous working current 630A

Failure current closing capacity (R.m.s.) 12.5kA

Failure current closing capacity (Peak Value) 31.5kA

Duration of action (Close / Open) 0.1 / 0.05

Number of mechanical switches 10000

Number of load switching times at rated current 10000

Short term withstand current 12.5kA
Introduction of automatic switch 3 phase U type (Recloser Schnieder)
Solid dielectric insulated U type automatic switch (Recloser), demonstrating Schneider Electric's commitment to continuously develop and improve the product to improve the features of traditional reclosers, plus functions for automation, control, and remote monitoring at present and future.
Overview of U type automatic switch

The U type self-switch uses vacuum cut-off chamber coated by epoxy insulated porcelain tubes, instead of using oil and gas insulators.
The cutter mechanism is housed in a 316 stainless steel housing with a stainless steel lid.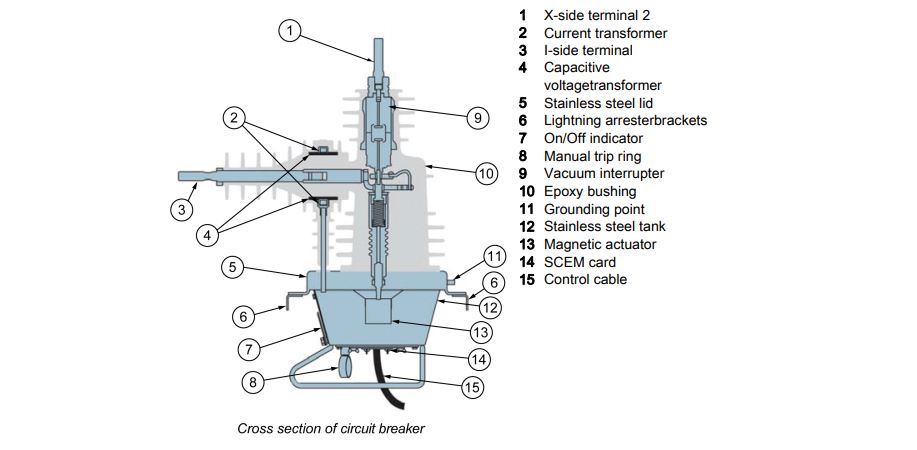 The U type circuit breaker is controlled and supervised by the COMPACT or ULTRA ADVC Control Cabinet.
Enclosed by a 304 (COMPACT) or 316 (ULTRA) stainless steel housing, the ADVC is an electronic controller with an Operator Interface (OI) that monitors the cutter and provides protection and measurement functions, control and communication. Connected via the control cable, the ADVC switch and control cabinet can form a remote control and monitoring Recloser.
The cutting machine is controlled by a magnetic actuator which creates a closing and opening effect. Electrical switching occurs when a control pulse is sent through an on / off actuator from a charge in the ADVC control cabinet. When closed, the breaker is latched magnetically. The push springs are pressed up to maintain contact on the contacts.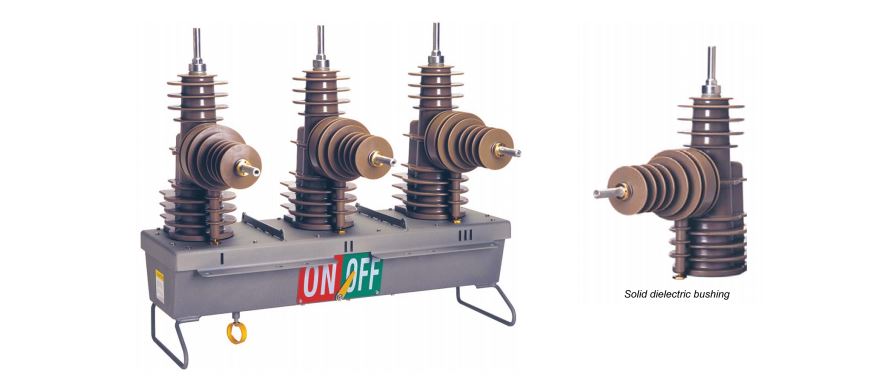 Specifications of the automatic switch U type
Specification of automatic switch U type (Recloser Schneider)

U type

15kV

15kV

12.5kV

12.5kV

Rated values

Maximum permissible voltage

kV

15.5

27

Rated continuous working flow

A

630

630

The ability to close the fault stream (R.m.s.)

kA

12.5

12.5

Failure current closing capacity (Peak value)

kA

31.5

31.5

Action time (Close / Open)

s

0.1/0.05

0.1/0.05

Number of mechanical switches

10000

10000

Load switching times at rated current

10000

10000

Short-term withstand current

kA

12.5

12.5

Cutting ability

Usual threshold (Power factor 0.7)

A

630

630

Breakdown capacity

kA

12.5

12.5

Cable tolerance current

A

25

25

Magnetization current of transformer

A

22

22

Resistance to lightning impulses

Phase-soil

kA

110

125

Between switching contacts

kA

110

125

Industrial frequency withstand voltage

Phase - soil

kA

50

60

Between switching contacts

kA

50

60

Working conditions

Working environment temperature

C

-40 to 50

-40 to 50

F

-40 to 122

-40 to 122

Radiation (Max)

kW/m2

1.1

1.1

Allowable humidity%

%

0 to 100

0 to 100

Altitude above sea level m (Max (2))

m

30000

30000

Altitude above sea level feet (Max (2))

ft

9840

9840

Real weight

The cutter supports mounting brackets on electric poles

kg/Ibs

146/322

146/322

Control cabinet with control cable

kg/Ibs

41/90

41/90

Total packing weight

kg/Ibs

263/580

263/580

External VT

kg/Ibs

60/132

60/132

Packing size

Width mm / in

mm/in

960/37.8

960/37.8

Depth mm / in

mm/in

1020/40.2

1020/40.2

Height

mm/in

1160/45.7

1160/45.7
Application of the U type Recloser
MV aerial network protection

Transformer station breaker

Recloser mounted pole

Loop automation

Automatic conversion

Generator control

Smartgrid

Load automation
Benefits of Type U Recloser
Improved SAIDI and SAIFI metrics by automatically reducing crashes

Deferring capital works by offering features that reduce network stress

Easily integrate into Smart Grid apps with advanced features like Loop Automation and Auto Switch

Flexible applications from complex substations or independent columns mounted through robust communication and automation features
Where to buy Recloser?

In the Vietnamese market, Recloser branded Schneider has been trusted by customers for its quality and suitability for the grid.
MBT is honored to become the genuine distribution partner of Schneider's Recloser and RMU products in Vietnam. MBT is committed to providing genuine, best quality products at the most preferential prices.
Customers who have demand for products of automatic recloser please contact:
MBT ELECTRICAL EQUIPMENT JOINT STOCK COMPANY
Website: http://vietnamtransformer.com/
Hotline: +84 913 006 538
Email: [email protected]
Address: Song Cung industrial zone, Dong Thap commune, Dan Phuong district, Hanoi
Recloser Schneider 3 Phase Automatic Closing Set